Volume 14, pages 119-124, 1929
AN ILLINOIS RECORD COPPER ERRATIC
A. R. CROOK, State Museum, Springfield, Illinois.
In various places in Illinois, chiefly in association with Illinoian and Wisconsin drifts, numerous pieces of drift copper have from time to time been found.
The table below gives a list of all these specimens known to the writer, together with their weight, dimensions, name of the finder, locality where discovered and where preserved.
Eleven counties mostly north of the center of the State are represented by the nineteen occurrences recorded. The most southerly point is Effingham, about one hundred miles from the southern end of the State.
The nuggets were all found in Wisconsin or Illinoian drift, none in older drift. Mr. Leverett has pointed out that copper erratics from the Lake Superior region are found as far east as northwestern Pennsylvania and there are contained in Kansan drift, since these ice sheets came from Labrador and moved southeastward, while Illinoian and Wisconsin sheets came from Labrador and moved in a southwestward direction. In fact, all such erratics found from central Indiana through Ohio to western New York and Pennsylvania may be referred to the Kansan, while those occurring in western Indiana, Illinois and eastern Iowa were transported during the Illinoian or later ice stages.
All of the copper masses, small or large, are more or less rounded, lack protruding crystal groups, and often show glacial markings and malachite coatings. Six specimens in the Illinois State Museum are shown on plate A.
The lumps recorded in the table range in weight from a fraction of an ounce to 1606 pounds. As far as is known, the latter, which is preserved in the State Museum, is the largest mass ever found in Illinois. It is fifty-one inches long, thirty-four and one-half inches high and six inches thick.
It was found in the fall of 1927 by L. J. Paul who was hunting on his farm eight miles southwest of Canton, Fulton County, Illinois. A mink had hidden in a pile of brush at the bottom of a small gully. To drive it out, the farmer set fire to the brush. Some time later as he was pushing the ashes aside, the heel of his boot scraped on a metallic substance. Noticing that it was yellow and shiny, he tried to find the outline of the mass. He thought that it might be buried gold so he worked alone. As it was located in the bottom of a gully it was in a difficult place to work and great effort was necessary to dig it out. Finally it was placed on skids, fastened to a tractor and drawn onto level ground. Soon neighboring souvenir hunters began to cut off protruding portions with chisels and saws, so the farmer buried it again. Later it was removed and sent to the State Museum.
It is an irregular, rather oblong mass with a few projections. (Plate B.) The malachite coating is chiefly in protected places. On the flat sides glacial striae are in evidence. Quartz crystals appear in places but no silver is discernable.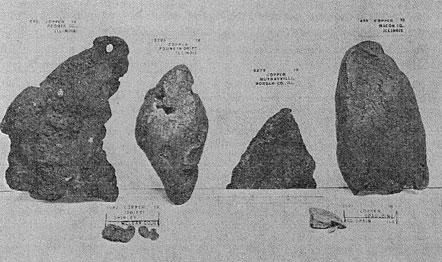 Plate A. Six specimens of native Copper in Illinois State Museum.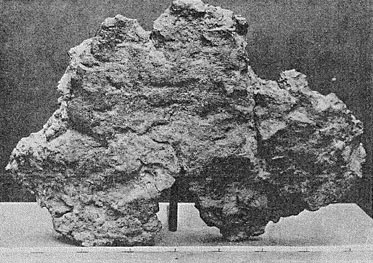 Plate B. Largest Copper mass found in Illinois. Now in State Museum.
No.
Weight Avoir.
Size in inches, length breadth thickness
Where found
By whom
Where preserved
CAT NO.
Remarks
1
3 oz.
1¾x15/8x½
Shirley, McClean Co.
Gates
State Museum
3382
2 Pieces
2
5 oz.
2x2x7/8
Spaulding, Sangamon Co.
Joseph Spain
" "
5389
2 Pieces. Thick malachite incrustration
3
3 lbs.
5½x5x11/8
Murrayville, Morgan Co.
Wm. H. King
" "
5279
4
11 lbs. 12 oz.
8¼x4½x33/8
" "
3383
5
17 lbs. 13 oz.
9¼x5½x2½
Macon Co.
Asa Eastman
" "
693
6
18 lbs. 10 oz.
10½x8¼x2½
Peoria Co.
" "
" "
695
Hole at one end to hang on wire to close garden gate.
7
1606 lbs.
51x34½x6
8 mi. W of Canton, Fulton Co.
L. J. Paul
" "
5590
Largest copper mass in Illinois
8
2/5 oz.
13/8x½x3/8
J. E. Lamar
J. E. Lamar, Ill. State Geol Surv.
Reported by A. Oldfather
9
1.4 oz.
1½x5/8x¼
" "
" "
10
2 oz.
2¼x1¾x1/8
3 mi. S. W. of Dixon, Lee Co.
" "
" "
11
3.7 oz.
2¾x1½x¼
S.W. of Amboy, Lee Co.
Favour
G. F. Moulton
12
2 lbs.
3x2x-
Univ. of Ill. Geol. Dept.
W. S. Bayley
13
2 lbs.
3x3x-
" "
14
2.5 lbs.
5x3x-
" "
15
3.5 lbs.
6x3x-
" "
16
2.25 lbs.
Near Ottawa, LaSalle Co.
Higby Canyon Sand Co.
Univ. of Ill. Museum, N. H.
A1806
Frank C. Baker
17
1 oz.
1¼x1¼x¼
Effingham, LaSalle Co.
J. A. Udden
Augustana College
F. M. Fryxell
18
3.75 lbs.
6x2¾x1¼
S. E. of Rockford, Winnebago Co.
University of Chicago Rosenwald Hall
J. H. Bretz. Figured on page 214, Bull 43 Ill State Geol Survvey.
19
18 lbs.
11¼x6x1¾
Richardson Sand Co., Elgin, Kane Co.
G.A. Gunderson
Supt. Sand Co. Elgin
G. E. Ekblaw