FIG. l. Map showing location and geologic setting of Mt. Antero, Colorado.

The granite stock is part of a much larger batholith of quartz monzonite, called by Crawford (1924) the Princeton batholith, and dated by him as being late Mesozoic or Tertiary in age. On the map, Fig. 1, the boundary of the Princeton batholith is shown as given by Crawford, and the smaller hatched area represents the granite stock in which the pegmatites and veins are found.

The quartz monzonite is typically rather dark in color, of medium to coarse grain, and composed of subhedral andesine and green hornblende, anhedral orthoclase, quartz and biotite. The minor accessories are sphene, apatite and iron oxides. The granite is medium grained, and composed of subhedral oligoclase, anhedral orthoclase and quartz. The mafic minerals, green hornblende and biotite, are present in only small amount. Numerous fine-grained aplite dikes cut the granite and quartz monzonite.

The minerals that have been described from Mt. Antero are found both in pegmatites and veins. All of the pegmatites seen were within the granite stock. The veins are in both granite and quartz monzonite.

PEGMATITES AND VEINS

The pegmatites are uniformly small in size, seldom exceeding 3 feet in width and extending laterally for only a few feet. Clean-cut exposures are few because of extreme frost action. All of the pegmatites and veins are found well above the timber line, in an area entirely covered with a mantle several feet deep of disintegrated rock. However, several outcroppings in vertical cliffs showed the pegmatites to be isolated lenticular bodies having sharp contacts with the granite enclosing them. Complete excavation of these pegmatites revealed that they are roughly disk-shaped or cylindrical bodies of limited extent in all directions.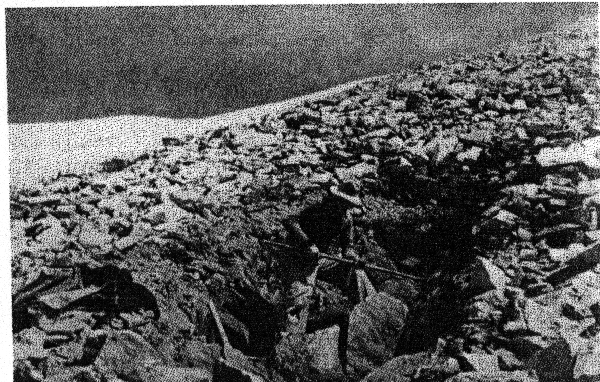 FIG. 2. Typical pegmatite exposure, in deeply disintegrated granite.
About 15 pegmatites and veins were studied in detail. The distinction between-pegmatite and vein is made chiefly on the basis of mineralogy, the differences in mineralogy being taken as a direct connotation of the physico-chemical conditions of deposition. On the same basis the pegmatites and veins have been further subdivided. This subdivision is done not only to facilitate description but to, point out that, although all of the pegmatites and veins arose from a common source, there are significant differences in their paragenesis, which will be discussed in a later section of the paper.
The pegmatites and veins have been divided into the following types:
A. Pegmatites
1. Beryl pegmatites
(a) Beryl-smoky quartz
2. Phenakite pegmatites
(a) Phenakite-colorless quartz
(b) Phenakite-smoky quartz
3. Beryl-phenakite-bertrandite pegmatites
(a) Beryl-phenakite-bertrandite
(b) Beryl-phenakite-bertrandite-fluorite
4. Topaz pegmatites
B. Veins
1. Muscovite-quartz vein
2. Phenakite-quartz-fluorite vein
3. Beryl-quartz-molybdenite vein
BERYL PEGMATITES
Pegmatites characterized by beryl are the most abundant of the complex pegmatites of the region. The beryl pegmatites are of two types, those that have "pockets" and those that do not. The pegmatites having no pockets are small dikes or lenses of common pegmatite, with some subhedral beryl, but with no open-space deposition. The pegmatites containing pockets have been further complicated by successive deposition of fine euhedral crystals of microcline, beryl, smoky quartz, albite and fluorite on the walls of the pockets.
Beryl-smoky quartz pegmatites: Several pegmatites of this type which had, pockets containing a variety of well crystallized minerals were found. One of the best exposed of these pegmatites was found by Over, near the summit of White Mountain. It out-cropped on a vertical cliff, and, therefore, was one of the least weathered of all the pegmatites seen. The pegmatite was a lens-shaped body approximately 12 inches across and had a roughly cylindrical central cavity extending back about 4 feet into the cliff. The pocket minerals were attached to the walls of the central opening and projected into it. The open, space was partially filled with "pocket dirt," most of which was formed by surface weathering. The periphery of the pegmatite was graphic granite several centimeters thick, to which was attached the pocket minerals.
Fine crystals of perthitic microcline ranging up to 10 cm. in length were found both as single individuals and as Carlsbad and Baveno twins. Beryl started to crystallize at the close of the microcline deposition. The beryl crystallized in fine green to deep blue transparent crystals up to 7 cm. in length. Smoky quartz followed beryl, and formed sharp crystals up to 10 cm. in length and of deep smoky color. The smoky quartz formed as low-quartz, as shown by frequent development of faces of a trigonal trapezohedron. Muscovite followed quartz and in part was deposited contemporaneously with it. Albite closely followed muscovite and can be seen replacing muscovite. However, some of the muscovite is definitely later than the albite. It is not known whether this represents continuous deposition of muscovite, or two separate generations. Albite in some cases formed complete replacement pseudomorphs of microcline; in others it only partially replaced it, or formed shells about the microcline crystals. Most of the microcline was then removed by solution, leaving hollow shells of albite. Abundant sericite was formed by the alteration of microcline. Fluorite, colorless quartz and limonite were present in small amount. A tabular summary of the paragenesis of this pegmatite is given in Table 1, column 1.
PHENAKITE PEGMATITES
Next in abundance to pegmatites characterized by the presence of beryl are those which have only phenakite as a beryllium mineral, and show no evidence of beryl having been present. All of the pegmatites of this type contain pockets, but the complexity of the pocket-mineralization is greater where smoky quartz is present. Here, as in the beryl pegmatites just described, the presence of a cavity containing smoky quartz seems to indicate a center of more prolonged mineralization, with gradually decreasing temperature.
Phenakite-colorless quartz pegmatite. The simplest of the phenakite pegmatites are in a pegmatitic area exposed on a cliff on the southeast side of Mt. Antero. The pegmatites are highly siliceous, being composed dominantly of milky quartz, with some subhedral microcline. The phenakite is found in small pockets lined with crystals of colorless or light smoky quartz ranging up to several centimeters in length. The phenakite crystals are both single and twinned and have a maximum length of about 5 mm. They are found either loose in the pockets or partially embedded in quartz. The only other mineral present is a small amount of muscovite.
Phenakite-smoky quartz pegmatite. In the same pegmatitic area just described one smoky quartz pocket was found by Over. The pocket was approximately 18 inches across and 4 feet deep, and was lined with large crystals of microcline and smoky quartz.
Euhedral crystals of microcline with a maximum dimension of 22 cm. show an etched peripheral zone about 2 cm. wide formed by the solution of the albite lamellae of the perthite. Muscovite was not abundant and in part overlapped with microcline in its deposition. Smoky quartz was very abundant and formed crystals ranging up to 30 cm. in length. Some of the crystals are greatly distorted by flattening parallel to a prism face, and many smaller ones are completely doubly terminated and show no place of attachment to the walls of the pocket. Phenakite crystals ranging up to 1 cm. across were very abundant. The phenakite is fixed in the sequence of mineralization by the fact that the crystals are commonly emplanted on, but not embedded in, smoky quartz. Both single and twin crystals were present, but the single crystals were more abundant. A late-stage introduction of albite followed quartz and phenakite, but the amount of albite introduced, mainly by replacement of microcline, was small. Fluorite was present in good octahedral crystals ranging up to 5 cm. in size. Colorless quartz formed as either small individual crystals or as "caps" on some of the smoky quartz crystals. A tabular summary of the paragenesis of this pegmatite is given in Table 1, column 2.
BERYL-PHENAKITE-BERTRANDITE PEGMATITES
Two of the pegmatites examined contained all three of the beryllium minerals -- beryl, phenakite and bertrandite. These two pegmatites varied considerably in their paragenesis and will be described separately.
Beryl-phenakite-bertrandite pegmatite. This pegmatite is located on the south slope of Mt. Antero. It has been almost entirely excavated by previous collectors, but abundant material on the dump, and information furnished by Over, who collected some fine bertrandite specimens there on previous trips, made it possible to build up a fairly complete picture. The original pegmatite was apparently comparatively large, with occasional small pockets several centimeters across.
The pocket minerals of this pegmatite were crystallized on a smaller scale than in most of the other pegmatites seen. The smoky quartz crystals were sharp and well formed but with a maximum length of 3 cm. Beryl formed well-terminated bluish-green crystals up to 3 cm. in length. Crusts of phenakite formed on unetched beryl crystals. Fluorite was present in small colorless and purple octahedra. Bertrandite in both single and twinned crystals up to 1 cm. in length formed as a late-stage alteration of beryl, as shown by its association with deeply etched beryl crystals, or in cavities left by the complete removal of beryl by etching. A tabular summary of the paragenesis of this pegmatite is given in Table l, column 3.
Beryl-phenakite-bertrandite fluorite pegmatite. The second pegmatite of this type was found by Montgomery on the northwest face of Mt. Antero. It was completely disintegrated and may not have been in place as seen in the field. It consisted of a cavity about one foot across completely filled with debris, in which the various minerals were buried. None of the material was attached to the walls of the cavity.
Microcline was present only in small amount, and was clearly the first formed mineral. It has been deeply etched, with the removal of the perthite lamellae, and later partially replaced by albite. Beryl is not now present in the pegmatite, but its existence at one time is indicated by numerous hexagonal-shaped casts of phenakite. Muscovite in part forms the casts and, therefore, followed beryl in its crystallization. After the removal of the beryl, the phenakite casts were often partially refilled by more phenakite. This later phenakite may have formed directly from the beryl as it was removed by solution. As a general rule, long prismatic twin crystals of phenakite formed later than did the more abundant short prismatic single and twinned crystals. Albite was introduced in small amount toward the close of the period of deposition of phenakite. Fluorite was quite abundant in sharp, well-formed octahedra, and in multiple disk-shaped twins, greatly flattened parallel to an octahedron face. Bertrandite formed in small amount very late in the hydrothermal stage. Quartz is almost entirely lacking. Only two small colorless quartz crystals were found, and their exact place in the sequence of mineralization is not known. A tabular summary of the paragenesis of this pegmatite is given in Table 1, column 4.
TOPAZ PEGMATITES
Topaz was found in only one pegmatite, on the south side of Mt. Antero. The pegmatite was completely disintegrated and consisted of a mass of fragments in the broken rock. Fragments of graphic granite composed of white microcline and smoky quartz indicated that the walls of the pegmatite were made up of this material. Numerous loose crystals were found of microcline and smoky quartz. There was a small amount of muscovite and fluorite. The topaz was brown in color and consisted of deeply etched crystal fragments. The original crystals must have been several centimeters in length.
VEIN DEPOSITS
Three veins were examined in the Mt. Antero region. Two of these are in the granite stock and closely associated with pegmatites. The third vein is in the quartz monzonite, about one half mile from the granite contact.
Muscovite-quartz vein. This vein was found by Montgomery on the northwest slope of Mt. Antero. It was a narrow, irregular vein with highly altered granite wall-rock on which had crystallized abundant deep green muscovite in clusters of small crystals, and deep smoky quartz in crystals ranging up to 20 cm. in length. Immediately following the smoky quartz, but sharply separated from it, was colorless quartz, which formed either as a capping layer on the smoky quartz or as small druses. Phenakite started to crystallize at this time and in part overlapped with the colorless quartz, as is shown by specimens of phenakite crystals partially or wholly embedded in the colorless quartz which caps the smoky quartz crystals. A small amount of albite was deposited at about this time and is the only feldspar present in the vein.
As is shown in Table 1, column 5, phenakite crystallized over a wide range, contemporaneous with quartz, and with colorless and deep purple fluorite. The colorless fluorite built octahedra as large as 10 cm. on an edge. There was then a halt in the crystallization of fluorite, but phenakite continued to form as a surface coating on the colorless fluorite crystals. Purple fluorite was then deposited by building on the colorless fluorite octahedra, and outlasting the period of deposition of phenakite. A pale green coating of fluorite then formed on some of the larger fluorite crystals. Some of the smoky quartz and fluorite crystals are dusted with a drusy coating of purple fluorite, which in this case is cubo-octahedral in habit. Limonite was very abundant, and a small amount of residual pyrite served to demonstrate its origin. When the limonite formed from pyrite it was deposited primarily as a replacement pseudomorph of fluorite. A small amount of native sulphur was also formed. The exact position of the pyrite and limonite in the sequence of mineralization is not known. A tabular summary of the paragenesis of this vein is given in Table l, column 5.
Phenakite-quartz fluorite vein. On the northwest slope of Mt. Antero a vertical vein about 4 feet wide is exposed over a length of 20 feet. It is composed dominantly of milky quartz but contains numerous pockets that range in size up to 14 inches across, lined with colorless or light smoky quartz crystals.
Phenakite was very abundant, and in part overlapped with quartz in its deposition, as shown by phenakite crystals partially embedded in the quartz that lines the pockets of the vein. Muscovite was present in minor amount, and was followed by orthoclase, variety adularia. Albite was next introduced, principally as a pseudomorph of the adularia crystals. Fluorite was very abundant, sometimes completely filling the pockets. It formed in sharp octahedra up to 10 cm. across. Phenakite is shown to have persisted over a long range in its crystallization by the fact that it is found partially embedded in fluorite.