Volume 14, pages 484-487, 1929
NOTES AND NEWS
MAGNET COVE, ARKANSAS, AND VICINITY
WILLIAM L. HALTOM, Alabama Museum of Natural History.
In the days of yesterday when the Red Men roamed the forests of Arkansas they found a happy hunting ground, the realization of their heart's desire. With the dawn of another era there has remained a veritable happy hunting ground, not for the Red Man but for the mineralogists and geologists.
For over a century Magnet Cove, Arkansas, has been visited by mineralogists and geologists who have come to seek out its treasures. Magnet Cove is located on Arkansas Highway No. 6, twelve miles east of Hot Springs. As the name implies, this is a locality in which there is a large amount of magnetic iron ore.
From the external appearance and general features of the cove many have believed this to be an ancient volcanic crater. More recently, however, the general consensus of opinion is that it is formed of intrusive igneous rock. The surrounding area is of the Tertiary age.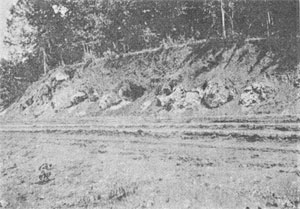 FIG. 1. View of cut just west of Cove Creek Bridge where the Alabama Museum secured many specimens including one weighing 400 lbs.
There are a number of separate areas in this small cove which abound in beautiful specimens. Recently the Highway Department made a cut through a small hill and exposed some beautiful deposits. This cut is on the highway just west of the Cove Creek Bridge. Here was exposed some of the most beautiful eudyalite crystals, also aegirite, acmite, calcite, vesuvianite, thomsonite, biotite, dysanalyte and wavellite.
Figure 1 gives an idea of how this cut appears. The bulk of the rock exposed is calcite. In between the ledges of calcite is the igneous rock which contains the beautiful crystals. Vesuvianite crystals may be found in the loose soil. By being careful not to roll any boulders on the highway one may do considerable digging here, which will be most profitable. It might be well to state that many pass this up as containing no interesting specimens, as it is very unpromising on a casual examination.
Another choice collecting spot is a small knoll about 250 yards south west of the Cove Creek Bridge. Here is found dysanalyte, magnetite, pyrite, limonite pseudomorphous after pyrite and the rare rutile 8-lings. It is possible that at one time these crystals were embedded in the calcite, but were liberated by weathering and decomposition. These crystals are now found loose in the soil.
Going east on the highway one will pass an old church on the left side of the road about ½ mile from Cove Creek Bridge. In front of this church there is a small creek, which is well worth examining. In this creek bed may be found small crystals of schorlomite, apatite, biotite, quartz and feldspar. These specimens are not numerous and are rather small, but are very handsome.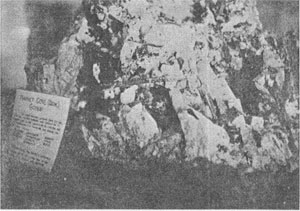 FIG. 2. View of case in Alabama Museum of Natural History. The specimen contains 10 minerals and weighs about 400 lbs. The black crystals are acmite, the white is feldspar.
Schorlomite, named for its resemblance to schorl or black tourmaline, is found along the highway about ¾ mile east of Cove Creek Bridge. Here on top of a slight hill there is an old road which turns to the right, along this and in the surrounding fields excellent specimens may be found.
The highway cuts through several deposits of vermiculite, between Cove Creek Bridge and the eastern rim of the cove. Just which one of the vermiculites this is, I can not say. In the Proceedings of the Academy Natural Sciences of Philadelphia, 1877, page 277, Dr. G. A. Koenig calls this protovermiculite and gives an analysis comparing it with biotite from Mt. Vesuvius. Along with these deposits, in many instances, is a small amount of schorlomite but poorly crystallized.
One of the most cherished minerals found at Magnet Cove is brookite which is also referred to as arkansite. This mineral occurs in beautiful crystals on Quartz in a small area extending north and south from the Magnet postoffice, which is on the eastern rim of the crater.
From Magnet Cove the following minerals have been reported: acmite, aegirite, actinolite, augite, ankerite, allophane, apatite, arkansite, biotite, braunite, chrysolite, calcite, dysanalyte, eudyalite, microcline, novaculite, nephelite, (eolite), ochre, monticellite, rutile, smoky quartz, schorlomite, tufa, vesuvianite, protovermiculite, variscite, phlogopite, wavellite, xanthophyllite, orthoclase, sodalite, astrophyllite, illmenite, talc, pyrite, thomsonite, cancrinite, pyroxene, titanite, amphibole, wollastonite, natrolite, plagioclase, brucite, manganopectolite, diopside, melanite, leucite, pseudoleucite, olivine and perofskite.
A careful stroll over the entire cove will uncover many specimens, although it is impossible to find anything like all of these at present. It must be remembered that in nearly every collection in America and Europe there are specimens from this one locality which is only about a mile in diameter. Also the Alabama Museum has secured about 3 tons of choice specimens. At present good specimens of the following may be found: acmite, albite, apatite, arkansite, biotite, brookite, calcite, dysanalyte, eudyalite, feldspar, magnetite, microcline, novaculite, nephelite, ochre, monticellite, rutile, schorlomite, vesuvianite, xanthophyllite, illemite, pyrite, pyrite altered to limonite, thomsonite and pseudoleucite.
Except at the cut just west of the Cove Creek Bridge no digging is necessary. An ordinary geological hammer is quite sufficient for the work, although a small shovel might come in handy. A hunter's compass is excellent for locating the larger magnetic iron ore deposits, however, a great deal of this ore which will cause a compass to deviate is still insufficient to pick up a needle or nail. A handy device to determine these specimens is a needle or nail attached to a thread. Instead of picking up countless worthless specimens, one may walk along and swing the needle against the specimens, and if highly magnetic it may be easily determined.
The entire cove is privately owned by a number of farmers, but the majority are very accommodating and will not object to trespassing unless the crops are needlessly destroyed. There is a good camp ground just to the right of the Highway on the west bank of Cove Creek. Excellent hotel accommodations may be had at Hot Springs.
Any one visiting this locality should also go to Crystal Mountain which is 18 miles west of Hot Springs on Highway No. 6, the same Highway Magnet Cove is located. Here same good specimens of quartz crystals may be secured.
By turning off of Highway No. 6 some distance west of Hot Springs as directed by signboards, one will come to Cedar Glades; continue on beyond this town to a small village about two miles farther. Here take the road to the right and go to Dug Hill, a familiar spot to the natives. At this locality may be secured beautiful green specimens of wavellite and variscite. It is necessary to dig in the old pits, abandoned some 40 years ago and now almost hidden from view, in order to get these specimens.
About 60 miles west of Hot Springs, is Murfreesboro. Here is the famous Arkansas Diamond Mine. This mine is surrounded by a fence but visitors may be admitted. Good samples of green peridotite in which the diamonds are found, may be secured. If this trip to Murfreesboro is taken one will pass Glenwood. At this point a road leads to the right and about 6 miles from here is a large cut where specimens of dendritic manganese dioxide may be found. This is a pass through which Caddo River, the railroad and highway pass before reaching the village of Caddo Gap.