Volume 3: Oxide Minerals
This volume is out of print. Print-on-demand and PDF versions are available at MinPubs.org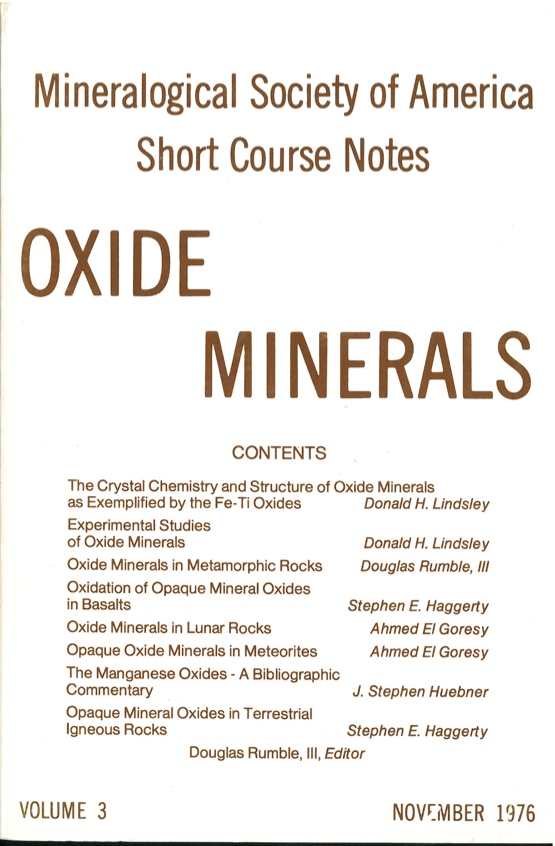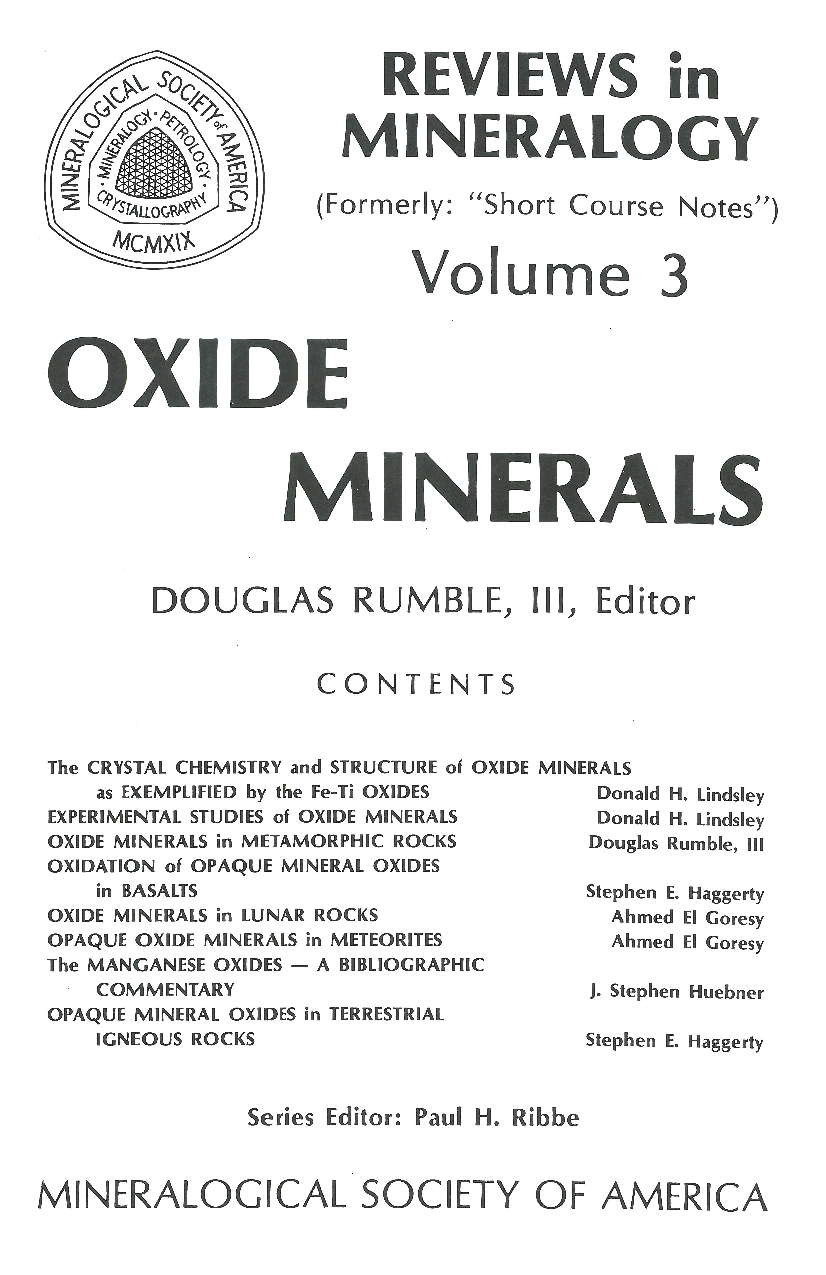 Volume 3: Oxide Minerals
Douglas Rumble, III, editor
1976, i-3 + 706 pages. ISBN 0-939950-03-0; ISBN13 978-0-939950-03-4
Oxide Minerals was first printed in 1976 as Volume 3 of the Mineralogical Society of America's SHORT COURSE NOTES. That series was renamed REVIEWS IN MINERALOGY in 1980, and for that reason this, the second printing of Oxide Minerals, has been reissued under the new banner. Only minor corrections have been made in the new printing.
The purpose of this volume is to provide, in a rapidly-printed, inexpensive format, an up-to-date review of the mineralogy and petrology of rock-forming opaque oxide minerals. It was the textbook for the short course on rock-forming oxide minerals sponsored by the Mineralogical Society of America at the Colorado School of Mines, November 5-7, 1976. The contributors hope that the work will be valuable not only to participants in the short course, but also to others desiring a modern review of the subject.

Douglas Rumble, III, Washington, District of Columbia, USA
November 1976
---
Contents of Volume 3 (Reviews in Mineralogy edition)
Title Page & Copyright
p. i - ii
Foreword & Acknowledgements
p. iii
Table of Contents
p. iv - viii
Useful References
p. ix - x
Chapter 1. The Crystal Chemistry and Structure of Oxide Minerals as Exemplified by the Fe-Ti Oxides
by Donald H. Lindsley, p. L-1 through L-60
Chapter 2. Experimental Studies of Oxide Minerals
by Donald H. Lindsley, p. L-61 through L-88
Chapter 3. Oxide Minerals in Metamorphic Rocks
by Douglas Rumble, III, p. R-1 through R-24
Chapter 4. Oxidation of Opaque Mineral Oxides in Basalts
by Stephen E. Haggerty. p. Hg-1 through Hg-100. References for Chapter 4 are included at the end of Chapter 8.
Chapter 5. Oxide Minerals in Lunar Rocks
by Ahmed El Goresy, p. EG-1 through EG-46.
Chapter 6. Opaque Oxide Minerals in Meteorites
by Ahmed El Goresy. p. EG-47 through EG-72
Chapter 7. The Manganese Oxides - A Bibliographic Commentary
by J. Stephen Huebner, p. SH-1 through SH-17
Chapter 8. Opague Mineral Oxides in Terrestrial Igneous Rocks
by Stephen E. Haggerty. p. Hg-101 through Hg-300. Includes references for Chapters 4 and 8.