Almaz Press Publications
Order Publications Online (25% discount for MSA, CMS and GS members, except shipping)
Jump to:


---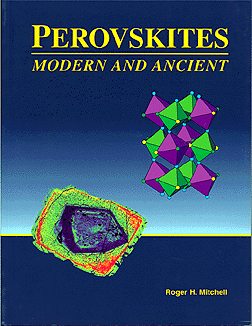 Pervoskites: Modern and Ancient
By Roger H. Mitchell
2002, 318 pp. softcover, ISBN 0-9689411-0-9
This volume is intended as an introduction for the neophyte to the structure and compositional variation found in perovskite-group and related compounds, will be of interest to solid state chemists, materials scientists, crystallographers, and mineralogists. The work does not describe the magnetic, electrical or other physical properties of perovskite-group compounds
Table of Contents
Chapter 1. The ideal perovskite structure: Pm3m perovskites and related structures.
Chapter 2. Distorted ABX3 perovskites: geometric and structural principles.
Chapter 3. Stoichiometric ternary perovskites: structural diversity.
Chapter 4. Ordered perovskites.
Chapter 5. Non-stoichiometric perovskites: A-site vacant and oxygen defect structures.
Chapter 6. Hexagonal perovskites and related structures.
Chapter 7. Layered perovskites-I: Ruddlesden-Popper, Dion-Jacobson, Aurivillius and AnBnX3n+2 compounds.
Chapter 8. Layered perovskites-II: High temperature superconducting cuprates and organic-inorganic halide perovskites.
Chapter 9. High pressure silicate and titanate perovskites and related structures.
Chapter 10. Naturally-occurring perovskites.
---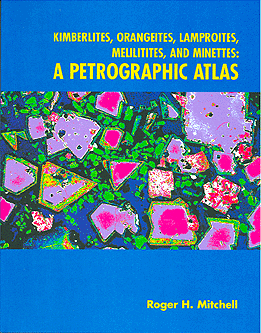 Kimberlites, Orangeites, Lamproites, Melilities, and Minettes: A Petrographic Atlas
By Roger H. Mitchell
1997, 243 pp. softcover, ISBN 0-88663-026-62002
This book of 400 color photomicrographs, illustrates some of the petrographic diversity exhibited by a group of alkaline rocks of interest to both academic petrologists and exploration geologists. Academic interest lies in the wide range of mineralogy and texture exhibited by these rocks, and in the derivation of their parental magmas from unusual metasomatized asthenospheric and lithospheric sources. Economic interest is related to the fact that kimberlite, orangeite, and lamproite are primary sources of diamond. Hence, to be able to recognize these rocks and distinguish them from petrographically-similar uneconomic rocks is of vital importance.
---
Almaz Press Inc
1427 Ridgeway Street
Thunder Bay, Ontario P7E 5J7
Canada
phone: 807-622-8466
fax: 807-622-7526
email: info@almazpress.com
website: www.almazpress.com