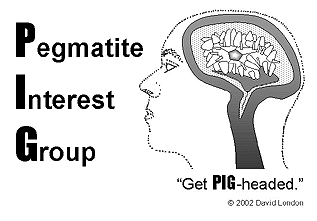 The Pegmatite Interest Group (PIG)
(revised 07/08/2015)
---
Links
Royal Geological Society of Cornwall, at www.geologycornwall.com, is a new website on a famous old collecting site: the granites, pegmatites, and ore-bearing veins of Cornwall, UK.
---
PEGMATOPIA, at http://pegmatopia.ou.edu. PEGMATOPIA is intended for prospective graduate students. It describes the current projects and opportunities for student research on pegmatites at the University of Oklahoma.
---
DAKOTA MATRIX. The Black Hills pegmatites site by Tom Loomis includes two very interesting and contemporary articles about pegmatite mines in the Black Hills, South Dakota. Dakota Matrix also has its MineralPedia, an illustrated alphabetical listing of the minerals combined with short descriptions the mineral's properties, the origin of its name, as well as geographic and geologic occurrences.
---
Skip Simmons and Karen Webber at the University of New Orleans would like PIGs to know of three web sites related to pegmatites:
http://www.uno.edu/pegmatology/ A link to Pegmatology at the University of New Orleans.
http://homepage.mac.com/rasprague/PegShop/ A link to the Maine Pegmatite Workshop held annually at Poland Mining Camps, Poland, Maine (USA). Information about the upcoming summer camp is presently posted on this site.
http://homepage.mac.com/rasprague/rubellite/ A site for the Rubellite Press, which publishes "Pegmatology, Pegmatite Mineralogy, Petrology and Petrogenesis" a book devoted to the study of pegmatites.
---
Gary Freeman (Coromoto Minerals) maintains an attractive and informative pegmatite website (http://www.coromotominerals.com/index.html) that details mining at the Orchard and GE pegmatite quarries in Oxford County, Maine. The site features photo galleries of some of the best specimens from five years of mining, and there are maps, views, and text that depict the geology and show the history of mining over time.
---
You can submit time-sensitive information about people, localities, or topics. We currently list relevant pegmatite websites here as well, and we would be happy to add more. Please send your contributions in electronic formats only to
Dr. David London
University of Oklahoma
School Geology & Geophysics
100 E Boyd St, Rm 810 SEC
Norman, OK 73019-0628
USA
Telephone: (405) 325-3253
Facsimile: (405) 325-3140
E-Mail: dlondon@ou.edu