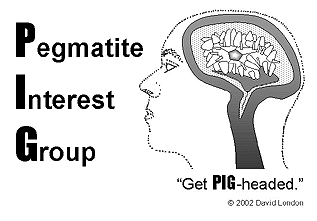 (revised 04/14/2016)
Hog Holler
---
Hog Holler 01 Jan - 30 Jun 2013 (56.7 KB).
Hog Holler 01 Jul - 31 Dec 2013 (76.5 KB).
Hog Holler Jan - Dec 2014 (75.3 KB).
Hog Holler Jan - Dec 2015 (106.5 KB).
---
If you published (including DOI in press) a book, chapter, article, abstract, or completed a dissertation or thesis on the topic of pegmatites and their minerals, please send me a complete citation to that work. Please include works only that are accessible through GeoRef, GeoscienceWorld, or ScienceDirect (dissertations are indexed by all, but I'm not sure all M.S. theses are; so, go ahead and send citations for M.S. theses including all of the institutional information that one would need to request a copy).
---
Dr. David London
University of Oklahoma
School Geology & Geophysics
100 E Boyd St, Rm 810 SEC
Norman, OK 73019-0628
USA
Telephone: (405) 325-3253
Facsimile: (405) 325-3140
E-Mail: dlondon@ou.edu